Looking to make North Jersey your new home? Take advantage of economical accommodations at the clean, comfortable, and convenient Swan Hotel and Suites. Located about midway between Trenton and Hackensack, The Swan can be your base of operation while you find your new home.
Relocating to North Jersey and Looking for a Place to Live
When you relocate to North Jersey, you'll become familiar with The New Jersey Turnpike, Route 1, and The Garden State Parkway among many other bustling highways. The Swan is nestled conveniently on Rt. 1 where Rt. 9 and The Turnpike intersect. It's a tremendously convenient spot to call "home" while you're figuring out where you want to live.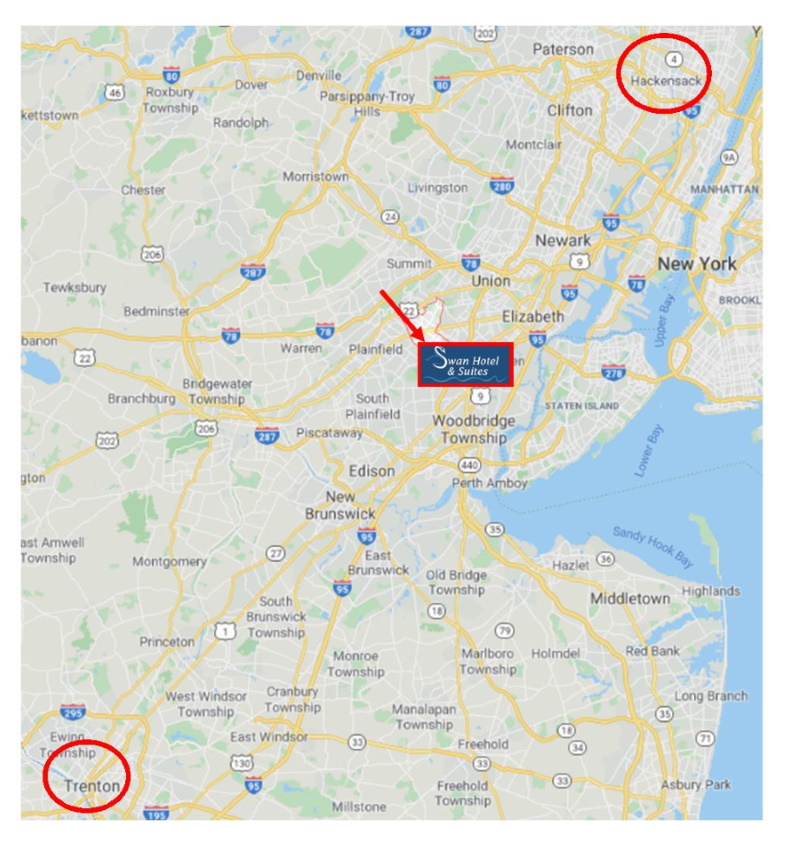 House Hunting in North Jersey?
Since you're going to need a home away from home while you're on the lookout for the perfect place to live,  our affordable rates and extended stay suites make it simple and convenient to stay comfortable here with us. The newer kitchens in our suites are spotless and have all the conveniences of home, equipped with full-size refrigerators so you don't have to spend money and time eating out every meal. 
Our location in Linden, New Jersey is convenient to all parts of the greater New York City area, so whether you're moving here for a new job or just to make a big life change, the Swan Hotel & Suites is the perfect way to make the transition. Our comfortable, roomy suites also offer large flat-screen TVs with more than 100 cable channels, to free high-speed Wi-Fi internet service. We also have smoke-friendly room and pet-friendly suites, so your four-legged family members don't have to stay in a kennel while you search for your new home. The Swan has been recently remodeled, so all our rooms and suites are extremely modern and comfortable so you'll feel right at home!
A Cheap Place to Stay Near Newark Airport
If you're flying into Newark Airport, and you're looking for a clean, comfortable and cheap place to stay, suites at The Swan start as low as $99 per night. If you plan to stay with us for an extended period of time, we offer even further discount pricing! We have suites big enough to keep you and your family comfortable while you look for a house or apartment, and make the transition as easy as possible.
Convenience Matters
We are conveniently located just 15 minutes from Newark International Airport and just half a mile from the Linden train station, and we offer a free shuttle service to both. Take advantage of our free, spacious parking lot and use our FREE shuttle to get to the airport, train station, restaurants, and shopping.
The Swan Hotel & Suites is family owned and operated since the 1950's. We'd love to make you feel at home.